Indebted to my Piggy Bank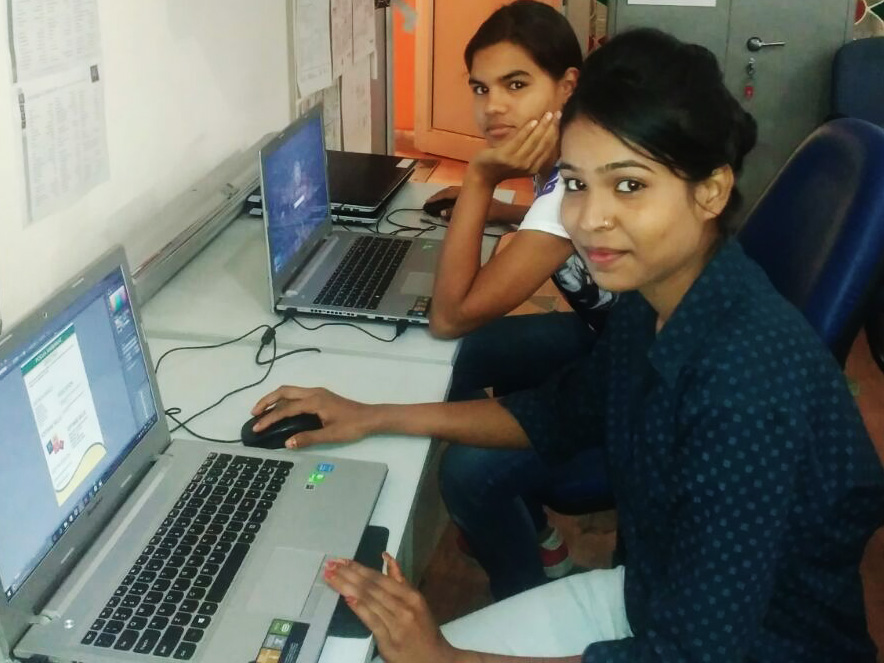 SADRAG
Divya is the eldest child of Dilip Singh and Mamta Devi, who years back, shuttled between Danapur, a small village near Patna in the state of Bihar and the industrial city of Noida in U.P., struggling to make a living for the family.
Divya's family migrated to Noida when she was only six years old. Her father got a job at a paltry salary of about 7000 INR, in a small factory where he darned fabric with hand. His income was grossly insufficient to secure a stable life for his family but there was no other option.
Expenses seemed endless and soon Divya had to separate from her family and go back to her village to stay with her grandmother, maternal uncle, aunt and their child. Divya missed her parents but the sad emotion of separation was overcome by a strong desire to become financially independent.
One day, Divya confided in her teacher that she had decided to drop out of school in order to find work and support her family. The teacher advised her to continue the school and encouraged her to work simultaneously. Divya applied for a job in Timex factory situated in their village. She joined the afternoon shift at a monthly salary of 6500 INR. Everyday at 2 pm after school, she would go to the factory, work there and return home after the shift was over at 10 pm. Divya accepted this ordeal and worked in the factory for more than two years. Her only aim was to lessen the burden of her parents and to let her brothers continue their school.
Out of her vigour and determination, Divya completed high school and was eager to take the next step in life. It was during one of the exploratory visits to a neighbouring computer centre that she learnt about the Graphic Designing course being conducted for under privileged youth in Noida. She liked the concept and desired to know more about it.
The next day, Divya visited the MAST media lab and was fascinated with the state of the art training aids available at the disposal of the students. Divya enrolled for the course without wasting a minute. She joined the morning shift and shuttled between the media lab and the factory. Once she was deeply committed to the course, she quit her job even though it had a negative impact, as her means of income had ceased. However she continued the course. She enjoyed being with others in the class since they all came from the same socio-economic background, full of aspirations, yet deprived and neglected. The dream of learning and earning was a thread which bound them together.
For three months, everything went smoothly till she inevitably felt the crunch of money. The situation became so bad that one day Divya had no money to pay even for her travel. She had to miss her classes and stay at home.
She felt helpless, watching her dreams of doing something; evaporate in front of her eyes. The Trainers at SADRAG guessed that something was amiss and visited her home to check what was wrong. The organisation offered to extend monetary assistance to help her meet her travel expenses.
However she did not accept the money instead broke her Piggy Bank which had her day to day savings. She used that money to pay for travel during the rest of the course".
After completion of the course, Divya appeared for numerous interviews. She got an internship offer from one of the Graphics Design company based in Noida. There she interned for five months at a monthly stipend of 4000 INR. For her, it was the beginning she was looking for. Her work was appreciated and she soon got a raise of 3000 INR. Persistence and good work fetched her another raise of 2000 INR and she is presently working at a monthly salary of 10000 INR.
Today, Divya represents a confident and a smart girl who does not succumb to the drudgery of life.
A teary eyed Divya recalls her days and says"My journey from an unskilled worker in a watch factory, to a professional has not been easy. I never dreamt that I would ever reach this point. I am indebted to SADRAG and to my Piggy Bank for changing the course of my life".
The hardships faced during childhood made Divya strong and prepared her to face the struggles of life. Divya has a dream. She wants to have a house where she can live comfortably with her family. She would want her younger brothers to study well and opt for higher studies. She is all prepared to work hard to realise this dream.
Source
SADRAG is a not for profit organization having been in existence since 2004. It is currently working in the geographical areas of North: Delhi, Noida, Greater Noida, Dadri and rural communities of Western U.P. and in the South: Bangalore.With a firm belief in equality of life for all, SADRAG envisions a world of dignity and self respect especially for women and children.
© Renalysis Consultants Pvt Ltd