Mid-day Meal Program – Geared Towards Eradicating Child Hunger and Malnutrition

Newgen
According to UN-India, there are nearly 195 million undernourished people in India, which is a quarter of the world's hunger burden. Also, roughly 43% of children in India are chronically undernourished.
Hunger is a serious problem in India and around the world. Food availability for all is essential. Eradicating child hunger is one of the key objectives of Newgen's corporate social responsibility (CSR) initiatives.
We have collaborated with The Akshaya Patra Foundation—a non-profit organization, in 2018 to transform the lives of children below the poverty line in India and improve their quality of life through a mid-day meal program. The mid-day meal scheme is a transformative program focused on the well-being and nutrition of children. It is a potent intervention to fight classroom hunger, addressing malnutrition among children. It serves as an incentive for children to get a proper education, improve their social skills, and empower women with employment opportunities.
Under this initiative, we provide healthy meals for students going to Vrindavan, Jhalawar, and Guwahati government schools. With fully mechanized kitchens and strict protocols, we ensure to provide a nutritious diet to every student. In 2021-22, we expanded our reach to the rural areas of Kakinada, Andhra Pradesh, and Bhilai, Chhattisgarh. In Kakinada, over 300,000 mid-day meals are provided to children. In the current year, the partnership has further expanded to reach the interior areas of Baran, Nathdwara (Rajasthan), Mangalgiri (Andhra Pradesh), and Gorakhpur (Uttar Pradesh).
"Newgen has been an esteemed partner since 2018, as a staunch ally in the fight against classroom hunger, co-owning the vision—No child in India shall be deprived of education because of hunger. The generosity of Newgen's leadership and the team led them to continue supporting beneficiary children through the Happiness Kit initiative, proving yet again that they are the true warriors against hunger," said Sundeep Talwar, Chief Marketing Officer, The Akshaya Patra Foundation
Happiness Kits During the Pandemic
The pandemic has impacted the psychological, emotional, and social well-being of students. Schools were closed. Education was imparted online. Everyone was indoors. In such a scenario, when families were struggling to make ends meet, education took a backseat. With schools shut, the mid-day meal (MDM) distribution was also halted, resulting in a food shortage among poor children. To bridge the nutrition gap during the lockdown, the foundation transformed mid-day meals into "Happiness Kits" to boost immunity, hygiene, and learning. We supported this initiative. During the reporting year of 2020-22, 30,000+ kits were distributed in Vrindavan, Jhalawar, Lucknow, and Bhilai.
The result of the Akshaya Patra program, supported by Newgen, turned out to be a success in various aspects, including:
• Better health and nutritional status of children
• Increased school enrollment rates
• Improved school attendance
• Minimized classroom hunger
• Encouragement of inter-caste socialization
• Empowered women with employment opportunities
The Way Forward
Newgen is committed to playing its part in eradicating child hunger along with the Akshaya Patra Foundation. This program is geared toward nourishing less-privileged children and encourages them to continue their education, which is a potent tool in eliminating poverty.
Source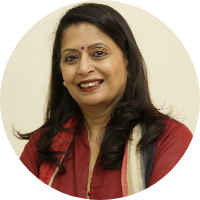 Priyadarshini has been on Newgen Board since 1997. She heads the corporate communication function as well as CSR at Newgen Software and plays a pivotal role in driving Newgen's CSR initiatives through programmes like Sadbhavna, Newgen Digital Discovery Paathshala (NDDP) and SOS village adoption.
© Renalysis Consultants Pvt Ltd