Oonati - community solar pump services for marginal farmers
By- Oorja
November 4, 2019
Oorja
In India 100 million farmers rely on diesel pumps to irrigate their fields. These polluting pumps are expensive to run due to high fuel and maintenance cost. As a result, these farmers are unable to irrigate their land sufficiently leading to low crop yield and trapping the cycle of poverty. The worst affected are the poor and marginal farmers who can't afford alternatives.
Oorja is a mission driven organization that deploys solar pumps to replace diesel pumps used for irrigation. They have developed 'OONATI' – an innovative community solar pumping service where there is no upfront cost to farmers. The organization design, install and operate community solar pumps so providing reliable and affordable irrigation services to farmers. Each pump is shared by fifteen to thirty farmers, allowing them to durably transition to solar pumping and get more crops per drop.
Abhishek Jain, Council on Energy, Environment & Water (CEEW) says – 'India has market opportunity of more than 25 billion dollars for solar pumps and looking at various deployment models which are possible particularly for a country like India where most of our farmers are marginal and small, instead of selling a pump to every farmer, it is much better to sell the service of pumping to most of these farmers who are currently relying on diesel pumps.'
Oorja successfully implemented three pilot projects in the state of Uttar Pradesh. These pilots have shown high pump utilization and customer satisfaction. This has made Oorja confident of replicating the solution in other areas of India. Having finished the early success, the question was how can the solution be made more scalable and that is how 'cluster-model' came into existence.
Six solar pumps are installed within a radius of two kilometres after careful site selection. Each set of three pumps is managed by locally hired pump operator. This creates livelihood opportunities within the community. Each cluster is maintained by one skilled technician, ensuring excellent customer service. A flow meter is installed in each pump for measuring water dispensed. This enables Oorja to sell water on a pay per use basis. Any farmer requiring water can sign up for Oonati without any upfront cost. Farmers pay the pump operator in cash based on the litres consumed.
The Oorja team is now moving towards north-eastern state of Assam. Oorja aims to bring solar irrigation to a community of thousands in Assam. For community mobilization and farmers, they partnered with local agricultural NGO called SeSTA, who has been active in livelihood promotion in Assam for the last 8 years.
By switching to Oonati services, farmers will be able to save 20% on irrigation cost & boost their crop yields by 50%. They will also be able to diversify to grow high value crops and potentially double their income from farming.
Oorja is a recipient of the grand prize of worth US$100,000 for 2019 Cisco Global Problem Solver Challenge.
Source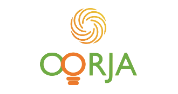 Oorja (Imperial College London, United Kingdom of Great Britain and Northern Ireland) deploys and operates pay-as-you-go community solar pumping systems to provide affordable irrigation services to smallholder farmers, allowing them access to affordable water services year-round, reduce irrigation costs, grow high-value crops, and double their incomes. Learn more on the team's
© Renalysis Consultants Pvt Ltd