The Tejaswinis of Jagriti
Photo Courtesy: Juba Pratim Gogoi
With changing time, the nature of crimes against women has changed. Women no more feel safe in their most personal space these days. But if there are more complex problems, women SHG members have devised more robust mechanisms with their sheer grit to challenge the societal menaces. Jagriti Gram Sangathan a village organization (VO) of Tejaswini Mahila Sangh in Jaina village of Bokaro district in Jharkhand, is one of them. It practices zero tolerance towards any violence against women.
Reena Devi lost her husband, Sushil Mahato, two years ago. A two-day fever snatched Sushil away from Reena, and he was only 35 years. She was left with her two infant sons and Sushil's parents. For Reena, life had just begun to take off when this sudden death blacked out her cherished dream of a happy family. Reena still expected that her in-laws would support her when she needed them, the most. Within a month's time, she was proved wrong. Her father in law, Agno Mahato, debarred her from using the kitchen. The household that she had adopted as her own and adapted herself according to its norms, likes and dislikes, was no more a part of her life.
A dumb-founded Reena wondered "khana kahan se milega ab? Bachchein kaise bhukhe rahenge?!" She went to the Gram Panchayat members for support, only to return back empty handed. Reena went to her parent's place. All her needs and those of her kids were well taken care of over there. But Reena's heart still longed to be back at 'her home'. A year later she decided to come back.
Upon seeing Reena at the gate, Agno did not let her enter even the courtyard of the house. Reena spent that night sitting outside the house. Even the most heartless would mellow, but her father-in-law was tougher.
Sapped out of the last drop of her energy, a broken Reena approached the Jagriti Gram Sangathan, to seek support from the Village Organisation. The VO of more than 200 women from 21 SHGs, was associated with Tejaswini Mahila Sangh, a women's federation that PRADAN had promoted. Jagriti aspires to ensure economic, political and social security to all its primary members along with empowering them on the above. One of its members, Munia Devi proudly claims, "Jagriti hi gaaon ko jagaygi".
Listening to Reena's ordeal, women members of the VO sensed that it was time to take quick action. By the end of the session, Reena found a group of 80 determined women walking along with her to her in-laws' place.
Seeing such a gathering in front of his house, Reena's father-in-law was petrified. Agno initially tried to ignore them. The women insisted that hear them out. They tried to counsel the elderly; the in-laws did everything they could to pacify the women. Finally, the women won! Agno agreed to let Reena Devi and her two children in 'his house'.
This was not the end of her ordeal. "Aaj mere ghar me paisa kamane wala koi nahi raha, kaun palega aur teen pet?" exclaimed Agno. Jagriti members had no ready answer to this; some serious discussion ensued. Soon a solution was proposed. Reena and her in-laws were assured that their basic food requirement would be catered to by the VO members. True to their resolve the women decided that henceforth, each of the 21 SHGs will bring a kilo of rice to the VO every month to be given to Reena. This meant, Reena would have 21 kgs of rice for her sustenance. Reena was also entitled to widow pension, but she had never got it. The group of women accelerated the process by negotiating with the Panchayat officials so that Reena could meet some of her expenses.
"Humko panchayat se zyada sangathan ki didi-sab pe bharosa tha", tears still roll down Reena's cheeks as she shares her struggle.
In the words of Poonam Devi, "Gram Sangathan ka sahi maine to ek-dusre ke liye khade hone me hai, agar wo bhi nahi ho paaya to humara astitva hi kya rahega?!" The VO continues to strive to create sustainable livelihood options for such families so that in the future no woman falls prey to violence just because she is a widow and her "soul bread earner" had abandoned her to "her fate".
Source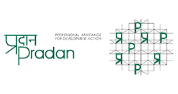 PRADAN works in the poorest regions of India to help vulnerable communities organize collectives that help people, especially women, earn a decent living and support their families.
© Renalysis Consultants Pvt Ltd