UN Women is transforming simple Anganwadis to 'Smart Anganwadi' to deliver high-quality services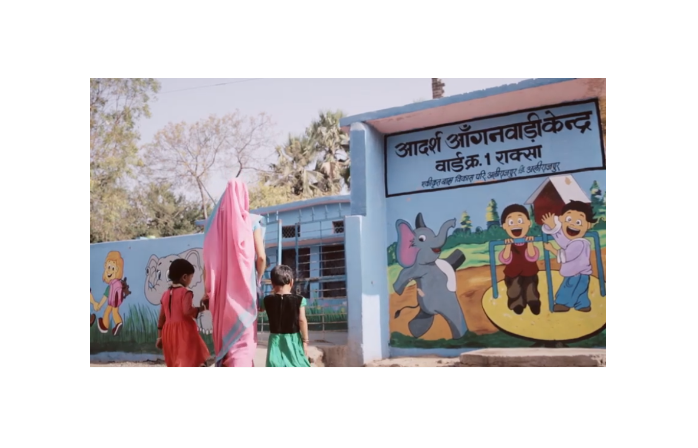 UN Women
The Anganwadi system forms the backbone of India's integrated child development services. It is world's largest community-based programme to holistically address health, nutrition and educational needs of children and future mothers. Though it's a well-designed programme, bottlenecks in service delivery and community outreach pose a challenge in its proper implementation. Many Anganwadis are deprived of basic facilities such as electricity which prevents it beneficiaries from accessing the centres.
Without electricity, the Anganwadis face several problems. The number of children coming to Anganwadi reduces significantly. Children are unable to sit inside Anganwadi for long because of the heat. The children start leaving even before the lunch is served. They feel uneasy and sweaty in absence of electricity.
Roopa Singh, Resident, Burhanpur says – 'If the centres are supplied with electricity, it would open up a world of possibilities for both women and children. If they get devices like computers which run on electricity in our Anganwadi, it will be beneficial for our children who come from resource poor backgrounds. They will get an opportunity to learn something new and modern.'
In a country like India that faces huge energy paucity; solar power is the key to a clean energy future. Though the state government wants to electrify all the
Anganwadis, lack of infrastructure and limited resources hamper the process. In this scenario, UN Women along with Madhya Pradesh Urja Vikas Nigam Limited have transformed 63 Anganwadis of Alirajpur and Burhanpur districts into Smart Anganwadis through Solar installation.
Ms. Nishtha Satyam, Deputy Representative, UN Women Multi-Country Office for India, Bhutan, Maldives and Sri Lanka says – 'The programme focuses on bringing decentralised renewable energy in a way that the Anganwadi is now a smart space, and is better equipped to provide a range of basic services in service of underserved.'
The program also looks at bringing together a cadre of trained women for the maintenance and installation of the decentralised renewable energy systems. With the provision of electricity, the children are the happiest. The centre today provides a pleasant learning environment where they can learn, play and have nutritious food.
Rupali Sachin, Resident, Burhampur, Madhya Pradesh says – 'My son never used to come to Anganwadi before. He used to complain that it's very hot here and ask me to take him back home. After the fan started working, my son enjoys being in Anganwadi. He doesn't want to go home now.'
Children are now happy to be under the cool breeze of solar-powered fan. Because of this, more number of children are coming to Anganwadi these days. The project has also benefitted the Anganwadi workers who feel that their productivity has improved as they are able to work comfortably after their centres are solar-powered.
The Anganwadi workers were given training in the operation and maintenance of solar units. They are taught how to clean the solar panels by using clean cloth and cold water. They were told if a bulb doesn't work, they should be careful to replace it will DC bulb and not AC bulb.
Provision of electricity has also enabled the Anganwadi workers to use digital learning aids to educate children which help them comprehend things better. Anganwadis are not just places for children; they are also safe spaces where women can access education, skill building and similar opportunities that can empower them.
The fact the Anganwadis will be strengthened by providing the energy solutions makes them an ideal place where women can choose to be a part they can take decisions affecting their lives, self-help groups can be formed and women can get together, do economically productive activities. Because the battery life is sufficient for the light and fan to be on, for almost the entire day.
Solar light is abundantly available in Madhya Pradesh. The smart Anganwadi project has the scope to be replicated in the entire state based on its successful outcomes. The project demonstrates the leveraging renewable energy sources would indeed pave the way for transforming simple Anganwadis to 'Smart Anganwadi' that deliver high-quality services.
Source
The United Nations Entity for Gender Equality and the Empowerment of Women, also known as UN Women, is a United Nations entity working for the empowerment of women. UN Women became operational in January 2011
© Renalysis Consultants Pvt Ltd