Vodafone Idea Foundation's 'Jaadu Ginni Ka' Financial Literacy Program Enables Bhavana Paliwal, CSC Village-Level Entrepreneur, to educate over 8000 Villagers of Rajsamand District, Rajasthan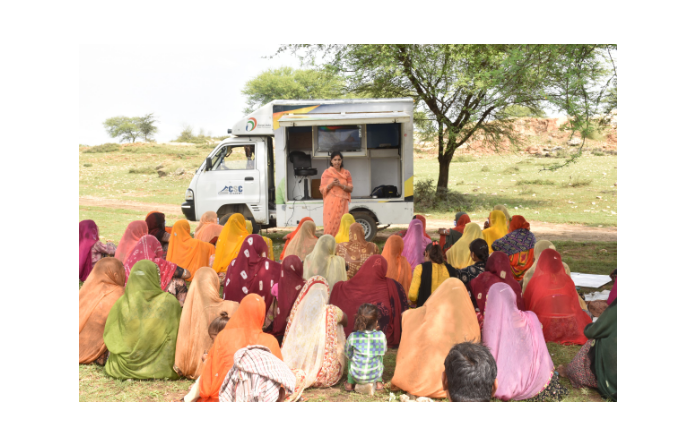 Vodafone Idea Foundation
32-year-old Bhavana Paliwal, who hails from the Rajsamand District in Rajasthan, always wanted to create awareness on a large scale in rural areas, particularly among women.
Association with CSC Academy
To pursue this dream, she joined CSC Academy, under the Ministry of Electronics and IT (MeitY), in 2012. On learning about CSC's various programs in the areas of digital and financial literacy, Paliwal registered as CSC's Village Level Entrepreneur (VLE). After undergoing training, she undertook her first project to conduct digital financial literacy programs in remote villages.
Challenges Faced
On her visits to villages, Paliwal came across many villagers who had no understanding of money management. Some believed that their money was safe only when locked at home. Others had fallen into traps of fraud chit fund companies. The loss suffered by these villagers due to such misinformed decisions was huge. However, Paliwal was undeterred by the challenge set before her. She was determined to promote financial inclusion in rural villages.
Financial Literacy with 'Jaadu Ginni Ka'
Over the last ten years of her journey as a VLE, Paliwal, through Vodafone Idea's 'Jaadu Ginni Ka' program, focused on financial literacy and spread awareness on the need of financial management. 'Jaadu Ginni Ka', which is implemented in partnership with Learning Links Foundation, educates people on basic financial concepts such as investments, financial planning, digital financial tools, etc. The content offered is based on simple storytelling format and features engaging games and quizzes.
Paliwal says, "Through the financial literacy program, villagers feel empowered." They understand how they can secure their future by saving safely and making informed financial decisions.
Paliwal' project of digital financial literacy gained momentum when she was selected to operate the technologically equipped mobile van recently launched by Vodafone Idea Foundation, under its 'Jaadu Ginni Ka' program.
The mobile van is fitted with laptops, an LCD screen, speakers, and generator. It allows Paliwal to communicate the message of financial literacy in remote villages using audio and visual content. The mobile van also doubles as a classroom as villagers are encouraged to step inside and use the laptops to attempt interesting quizzes on financial literacy.
Impact on Ground
The 'Jaadu Ginni Ka' program has enabled Paliwal to cover a distance of over 18 thousand kilometers and educate over 8000 people on financial literacy.
Paliwal' main goal has always been to contribute to the empowerment of women across rural villages. Through the 'Jaadu Ginni Ka' program, she has successfully educated over 3000 women on money management. These women now hold bank accounts and make informed investments.
COVID-19 Awareness
Paliwal also repurposed the mobile van to conduct COVID awareness drives, distribute masks and sanitizers, during the onset of the COVID pandemic. During this time, many women in remote areas had little to no access to sanitary napkins. To help such women, Paliwal also made door-to-door deliveries of sanitary napkins with the help of the mobile van.
What does the future hold?
It is for her heroic efforts that, in 2020, Paliwal was recognized at the state level with the title of 'Distinguished Woman' of Rajsamand. When asked what's next for her as a VLE, she says that her goal is to empower many more women settled in the remote villages of India.
Source
Vodafone Idea Foundation is the CSR arm of Vi. Our vision is to empower lives through transformative programmes
© Renalysis Consultants Pvt Ltd