Back to the Event Listing
Post an Event announcement
Advertise with us
Online store
Subscribe our Weekly Newsletter
More Events
---------------------------------------------
Applications Invited for India Science Festival (ISF) 2024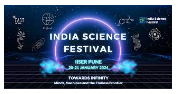 Organization: Foundation for Advancing Science and Technology (FAST India)
Event Duration: 20 Jan. 2024 - 21 Jan. 2024
Apply By: 31 Aug 2023
About the Organization
We believe that to be a global leader, India needs to be at the forefront of research: the creation of new science and technology knowledge and its translation to economic and social goods. This would ensure sustained economic growth that is not primarily and overly dependent on the service sector. We believe that this is the right time for India to revive its science and technology agenda.
The Foundation for Advancing Science and Technology (FAST India) is a non-profit institution of excellence dedicated to building capacity and advancing policy solutions that foster scientific enquiry and research, and facilitate the creation, dissemination, and translation of new scientific knowledge. The foundation will work with a variety of stakeholders to develop and strengthen the science ecosystem in India in order to advance scientific research and its translation into economic value and social good.
FAST India will have five key verticals – policy and research, government support, institutional strengthening, corporate sector engagement, and science communication.
About the Event
The India Science Festival (ISF) is the flagship annual event of the Foundation for Advancing Science and Technology (FAST India), a non-profit institution of excellence working to enable the transformation of India's science and technology ecosystem through research and policy, government support, institutional strengthening, corporate sector engagement, and science communication.
Since its launch in 2019, ISF has served as a vibrant and stimulating platform to celebrate and explore science in every way possible by bringing together a diverse array of professionals to engage and inspire a wide-ranging audience. The festival aims to inspire and nurture interest and appreciation of science in young people and the public at large.
The entry to ISF is free and open to all, in keeping with our ambition to make science accessible to all.
ISF connect young people and the general public with scientists, engineers, health professionals, business leaders, innovators, creative professionals to foster public understanding of and engagement with science and bring together various actors in the science, technology and innovation ecosystem to discuss, collaborate and progress together.
Through an eclectic mix of events comprising of popular science talks, interdisciplinary panel discussions, immersive exhibits, interactive installations, hands-on workshops, policy roundtables, book launches, film screenings and performances, we aim to bring out the excitement of science, its linkages with culture and society, and highlight its role in addressing current and future challenges.
ISF strives to be an inclusive platform to anyone who wishes to engage in science and provide an open forum for progressive and thoughtful discussions on science.
We are pleased to inform that ISF 2024 will be held in IISER Pune on 20th and 21st of January 2024!
The theme for this year's festival is:
Towards infinity: Minds, Machines and the Endless Frontier
Join us in shaping ISF 2024 by submitting your proposals. Let us come together to promote science and make a lasting impact on our society.
Workshops
ISF features a wide range of hands-on workshops for children and young adults. Submit ideas for organising a unique workshop, preferably on a cutting-edge topic related to the festival theme. The workshop should be designed with a specific target audience in mind and must be highly creative and interactive. The duration of these workshops should not exceed an hour and a half.
Panel discussion/round table
With the goal to catalyse the transformation of the S&T sector in the country and its impact on society, ISF brings together scientists, policy makers, industry experts, thought leaders, and a wide range of stakeholders to deliberate on ideas for advancing scientific research and policy. ISF also hosts constructive debates and discussions on scientific topics of historical and contemporary relevance. Proposals are invited for innovative round tables and panel discussions addressing these areas. The event should result in actionable ideas or recommendations in the form of a white paper or similar outputs. The duration of these events should not exceed an hour.
Booth/stall
ISF aims to not only spark interest in STEM fields among young people and the public at large but also attempts to serve as a platform to nurture and empower them. Submit proposals for booths/stalls preferably with interactive exhibits, which are attractive enough to get people's attention and expansive enough to explain your science/project/initiative to a general audience.
Installation/Performance
While science continues to contribute to the advancement of artistic inquiry and practice, creative art has emerged as a powerful tool to visualise, explore, and demystify abstract/complex ideas and concepts. The harmonious relationship between science and creativity is undeniable. Together, they can provoke, inspire, and engage a wide range of audiences on topics and themes that are often hard to grasp or challenging. ISF, through the merging of science and art, aims to ignite curiosity, stimulate dialogue, and evoke profound emotional responses from the audience.
Submit proposals for exquisite and meaningful collaborations between science and creative art (theatre, street art, multimedia art, dance, music, etc.) that will culminate in captivating performances/installations at the Festival.
Miscellaneous Ideas
Think your proposal can't be confined to the boundaries of the above categories? Have any other creative ideas that need a category of their own? Feel free to shoot your proposals conveying those box-fresh ideas our way.
How to Apply
Submit your proposals/ideas for events at ISF 2024 through the online application form by 31st August 2023.
For more information please check the Link
Register for the 10th India CSR Summit (by CSRBOX). New Delhi-11-12th Oct. 2023
Latest Online Store
Latest Tenders And EOIs
Latest News
© Renalysis Consultants Pvt Ltd