Back to the Event Listing
Post an Event announcement
Advertise with us
Online store
Subscribe our Weekly Newsletter
More Events
---------------------------------------------
Applications Invited for Oman Humanitarian Desalination Challenge (OHDC)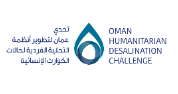 Organization: MEDRC
Event Duration: 17 Mar. 2023 - 31 May. 2023
Apply By: 31 May 2023
About the Organization
MEDRC is an International Organization mandated to find solutions to fresh water scarcity. Established in 1996 as part of the Middle East Peace Process it conducts research, training, development cooperation and transboundary water projects.
The MEDRC Headquarters is in Muscat in the Sultanate of Oman, where it operates a state of the art research facility including desalination plants, laboratories, lecture halls and administrative offices.
In delivering its mission, MEDRC aims to become a viable and transferable mechanism for governments seeking to address significant regional or trans-boundary environmental challenges.
About the Prize
The Oman Humanitarian Desalination Challenge (OHDC) consists of two parts: a Prize Competition and the Pathway Research Grants. The Prize Competition is led by MEDRC supported by the Oman Ministry of Higher Education, Research and Innovation (MoHERI). The Pathway Research Grants are led by MEDRC and supported by the United States Agency for International Development (USAID).
The Prize -
The OHDC Prize Competition seeks to create a hand-held, stand-alone, low-cost, desalination device for short-term use and rapid deployment following a humanitarian crises.
Access to clean fresh drinking water following a disaster is critical to health and survival. Current relief response measures often rely on transporting massive quantities of bottled water into the affected population or distributing water purification devices or tablets that don't have the ability to rid water of salt.
There is an urgent need for an inexpensive hand-held desalination device that can be deployed quickly and affordably to people in need of drinking water in times of crises. No such product exists on the marketplace today.
The OHDC Prize Competition carries a $700,000 prize. Launched March 7, 2018, the OHDC Prize Competition is starting its third competition with no winner from the previous two.
The Pathway Research Grants -
In partnership with the USAID, MEDRC launched a third international call for research proposals at the end of 2021 in a bid to spur innovation in small-scale desalination technologies.
The OHDC Pathway Research Grants look for the development of a small-scale desalination unit (120 liters per day) capable of supporting a family with access to brackish water sources. MEDRC specifically awarded proposals that would allow a grantee to better compete for the OHDC Prize Competition through down-scaling of their device.
Eligibility
The OHDC Prize Competition is open to any individual, team, or organization from across the world who believes they have a solution capable of meeting this need.
How to Apply
Register for the third OHDC Prize Competition before May 31, 2023.
Queries should be forwarded to info@desalinationchallenge.com
For more information please check the Link
Latest Online Store
Latest Tenders And EOIs
Latest News
© Renalysis Consultants Pvt Ltd