Back to the Event Listing
Post an Event announcement
Advertise with us
Online store
Subscribe our Weekly Newsletter
More Events
---------------------------------------------
The Green Business Challenge 2017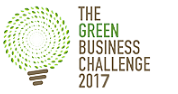 Organization: Innovative Challenge Collaborative Services Pvt Ltd
Event Duration: 22 Dec. 2017 - 31 Dec. 2017
Apply By: No Deadline
ICCSPL brings to you The Green Business Challenge 2017!
The Green Business Challenge is hosted by Innovative Change Collaborative Services Private Limited (ICCSPL), with a mission to find and foster green-o-preneurs/agri-preneurs with innovative ideas that address today's Clean energy and Agriculture challenges focusing on the East & the North East region of India. With this challenge ICCSPL intends to fill in the gaps by providing mentoring and incubation support to promising entrepreneurs/enterprises/NGOs.
GBC Overview
The Green Business Challenge (GBC) is an initiative of Innovative Change Collaborative Services Pvt. Ltd. (ICCSPL) with a common mission to create and enable a platform to find and foster entrepreneurs/enterprises with innovative ideas that address today's 'clean energy' and 'agribusiness' challenges focusing on the Eastern the North Eastern region of India.
The GBC 2017 will cover two broad thematics of CLEAN ENERGY and AGRICULTURE . This event will provide a unique networking opportunity for clean- enterprises/agri, investors, leading clean business/agri professionals from the government,non-government and private sector. In order to further upscale agri-food chains and off- grid, clean energy technologies in India, the right ecosystem needs to be in place. Inthis context, the challenge will look at ways of upgrading value chains by empowering enterprises and integrating them in strategic partnerships, including impact investments.In addition, as part of the closing event of Green Business Challenge 2017, we will seek to identify and award the most outstanding entrepreneurs/enterprises with the most innovative ideas and entrepreneurial minds. The event will be held in February 2018 at New Delhi.
Who Can Participate / Apply
The Clean Energy Challenge is open to both for-profits and non-profit registered organizations. The applicants, however, must be registered as One Person Company (OPC), Partnership (Deed registered), Limited Liability Partnership (LLP), Private Limited Company, Public Limited Company, Section 8 Company, Limited Liability Partnership (LLP), Sole proprietorship, Trust, Society/Cooperative, Family owned business/HUFs, and Educational Institutions.
The Agribusiness Challenge is open to start-ups in the first year of operation that are actively operating or plan to operate in the Eastern or North Eastern Region of the country on Agri-based ventures. We also encourage students to put business ideas into practice in a collaborative and nurturing environment where they would be supported further by ICCSPL and ICCO Group B.V. upon selection.
Applicants who have already enrolled in similar programme (any incubation programme offered by any other agency) are not eligible to apply
The Challenge Format
As a build up to finding the best entrepreneural brains for the Challenge, roadshows will be held across the targeted geographies the Eastern and North Eastern states. Through the Roadshows, we are aiming to bring together more than 2,000 stakeholders including Clean/Agri Start-ups, who would join us to become part of the Challenge.
Interested participants need to fill up the business proposal application form on the Challenge website and submit it adhering to the specified timelines. As per the Challenge format, applications would be screened, and shortlisted applicants will get the opportunity to pitch their propositions in front of a seasoned Jury at New Delhi. Consequently, the best proposals will be rewarded with cash prizes, besides a tailor-made incubation support.
Roadshows
Provides access to business incubation infrastructure

Attended by entrepreneurs/enterprises with eco-friendly innovative ideas

Held across 19 cities
Prize
The highest-quality top 3 projects will be selected as potential finalists and would be awarded a cash prize, whereas the top 10 finalists would get incubation support to help them structure their plan.
Apply by 31st Dec 2017
For more information please check the Link
Latest Online Store
Latest Tenders And EOIs
Latest News
© Renalysis Consultants Pvt Ltd