IIHMR University inaugurates MBA programme 2023-25
By NGOBOX
August 11, 2023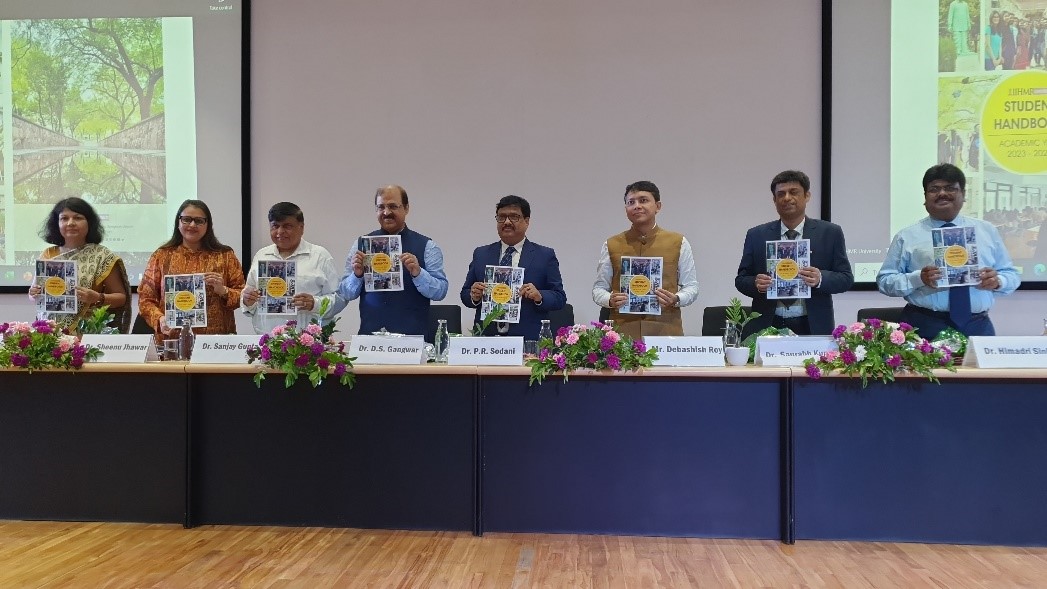 IIHMR University, Jaipur, organised an Inauguration ceremony of newly admitted students of MBA (Hospital and Health Management), MBA (Pharmaceutical Management) and MBA (Development Management) programmes, 2023-25, at its campus.
Dr.P.R.Sodani, President, IIHMR University welcomed all the dignitaries, newly admitted students and parents. In his address, he shared the entire journey of IIHMR since its inception in 1984 as a Health Management Research institute. From research, IIHMR entered into higher education in 1994-95. IIHMR pioneered this unique program for the first time in India when no other institution offered the program. In 2014, IIHMR University was established and incorporated as a post-graduate research University by the Government of Rajasthan. Currently, IIHMR University is offering MBA (Hospital and Health Management), MBA (Pharmaceutical Management) and MBA (Development Management). Dr. P.R. Sodani shared that university alumni contribute significantly to the health and development sectors as leaders and managers at national and international levels. He shared that the university is organising an orientation programme for the students, including activities such as sessions by industry leaders, experience sharing by esteemed alumni, orientation on the university's values, culture, procedures, policies, students' code of conduct, mentor-mentee relationship, and human process lab.
Dr. Dharmendra Singh Gangwar, IAS, Former Secretary, Ministry of Home Affairs, and Former Additional Secretary and Financial Advisor, Ministry of Health & Family Welfare, Government of India delivered the address as Chief Guest of the programme. In his detailed presentation, he shared the insights of Indian Healthcare Industry, Essence of Management and Leadership and Development of Manager-Leader of Healthcare Systems. He congratulated all new students on getting selected and joining the MBA programs at IIHMR University. He also shared that Indian Healthcare market was valued at INR 21.14 Trillion in FY 2021, and it is estimated to reach INR 110.21 Trillion by FY 2027, expanding at compounding annual growth rate (CAGR) of ~30.70% during the FY 2022- FY 2027 forecast period. The health sector has the potential to generate over 5,00,000 jobs per year in India.
Mr. Debashish Roy, Director and Head - Digital Innovation, Customer Experience and External Partnerships, Pfizer, India in his address shared that driven by the pandemic, India's adoption of digital health has grown by leaps and bounds. India is leading in the adoption of digital health technology and all healthcare professionals in the country will be using digital health records (DHRs) in their practice in coming years.
Dr. Sheenu Jhawar, Director, Apex Hospitals Pvt Ltd. and President, TiE Rajasthan, an esteemed Alumni of IIHMR University, said that coming to IIHMR University is like a homecoming for her. She shared her journey and experiences at IIHMR University as one of the students who joined the first batch of PG Diploma in Hospital and Health Management. She motivated and inspired the new students through her own example who joined the healthcare sector after passing out from IIHMR University and became a successful leader in this sector. She thanked the leadership, faculty and mentors at IIHMR University and gave entire credit of her success to them.
The inauguration programme was also addressed by Dr. Sanjay Gupta, Dean, Institute of Health Management Research, Dr. Saurabh Kumar, Dean, School of Pharmaceutical Management and Dr. Himadri Sinha, Dean, School of Development Studies. They inspired the students with their address and shared brief details of their respective schools. The event also saw the release of Student Handbook for the session 2023-25 by dignitaries on the stage. Dr Tripti Bisawa, Professor and coordinator IQAC, IIHMR University, gave the vote of thanks.
© Renalysis Consultants Pvt Ltd