Oxygen Centre - an initiative by Arvind Foundation and CSRBOX for Helping Covid-19 Patients to Get Oxygen Cylinders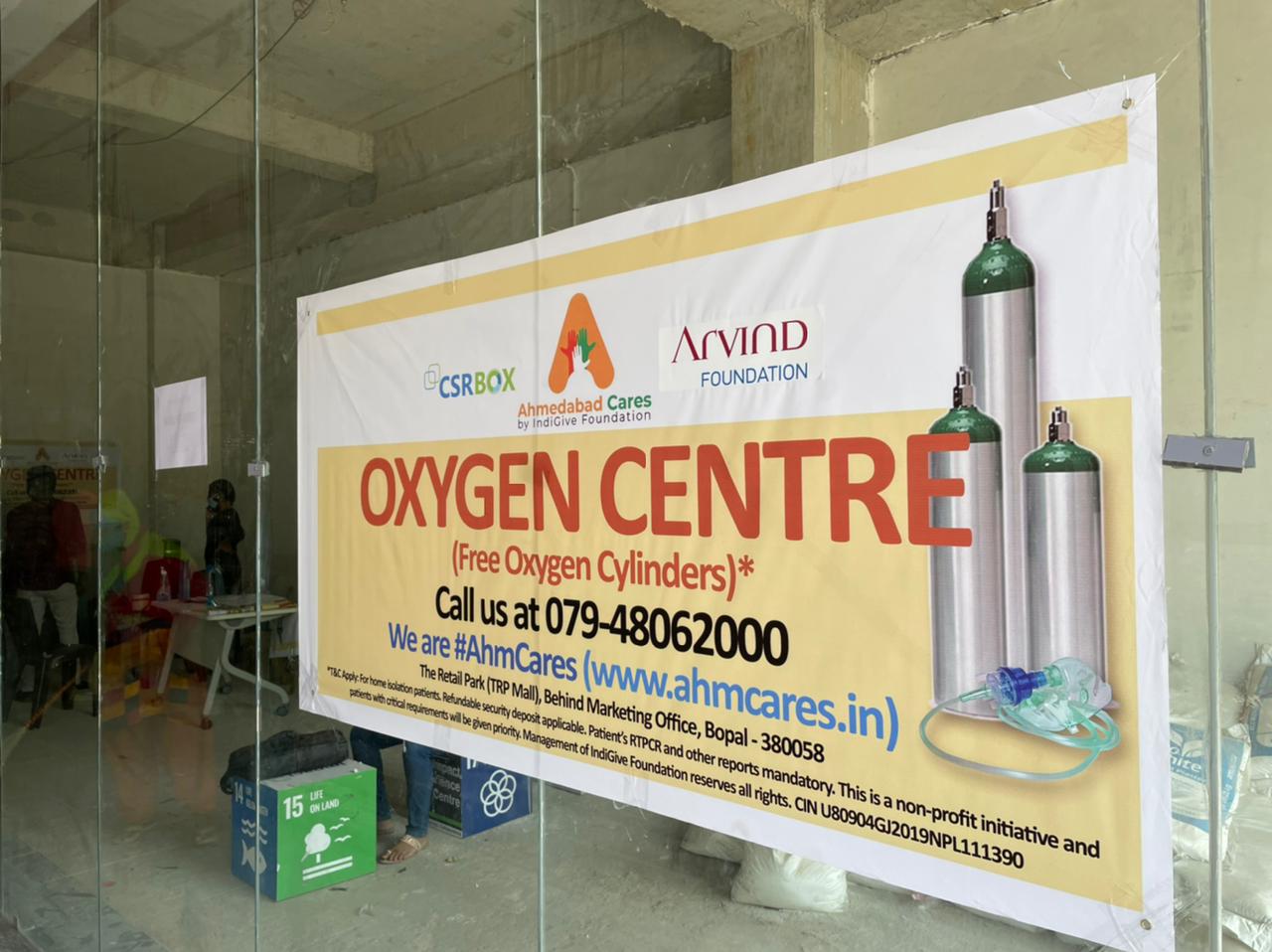 Ahmedabad, Gujarat: For the past couple of weeks, Ahmedabad has been reporting over 14000 COVID-19 cases per day. There are thousands of patients who are in home isolation and struggle to find oxygen cylinders to cope up with the breathing issue and falling SPO2 level. The scarcity of beds with oxygen in hospitals and misinformation around healthcare services adds more to the misery of the patients.
To tackle the above-mentioned crisis, Ahmedabad Cares (IndiGive Foundation) has set up a few Oxygen Care Centres to provide oxygen cylinders and refill cylinders to home isolation patients. Oxygen Centre will provide oxygen cylinders and support to refill the cylinders through a few associate network partners. They would also deliver cylinders to home-isolation patients who do not have a helping hand. The Oxygen Centre will operate from 10 am to 6 pm on all days. The first such center has been set up in the Bopal area and has been operational since 1st May while a few more centers will be set up in other areas in the coming weeks. The Centre has a helpline no. 079-48062000 to facilitate and guide patients. Each Oxygen Centre will be able to support 200-300 patients in a month.
The Ahmedabad Cares helpline has received 1450 calls in the past 8 days to receive information about Oxygen supply, hospital beds, and plasma donation. They use the power of their network to provide updated information to the patients.

About Ahmedabad Cares:
Ahmedabad Cares (www.ahmcares.in) is a voluntary initiative under IndiGive Foundation, a Section 8, not for profit organisation and group foundation of CSRBOX. The platform is curated to bring together all essential information that is required for COVID-19 patients and their families for the patient care and treatment. Operationally, we are a volunteer cum citizens platform. Legally, we are a Section 8 not for profit company.
About Arvind Foundation:
Arvind Foundation has been set-up as a CSR arm of Arvind Limited to establish a dedicated vertical aimed at providing smart solutions to the problems of national importance such as Sanitation, Housing, Renewable Energy, Health, Education etc


About CSRBOX:
CSRBOX.org is Asia's largest CSR platform with an in-depth CSR portfolio of over 1050 companies and 10000+ CSR projects. The platform works as a bridge between the development sector, and business community, government agencies and academic institutes to bring together opportunities on one platform and create a knowledge base for thematic interventions. A few of our clients are UNICEF India, IBM, BOSCH Ltd, HCL Foundation, Genpact, Diageo, Bajaj Foundation etc.We have projects, platforms and partnerships (3Ps) based approach for social impact in India.
Contact:
Shilpi Jain
Mob.no: 9560352170
© Renalysis Consultants Pvt Ltd