Primebook Founders Calling out iDream Education's iPrep app as Content Partner for their Android based laptop on Shark Tank
By NGOBOX
January 23, 2023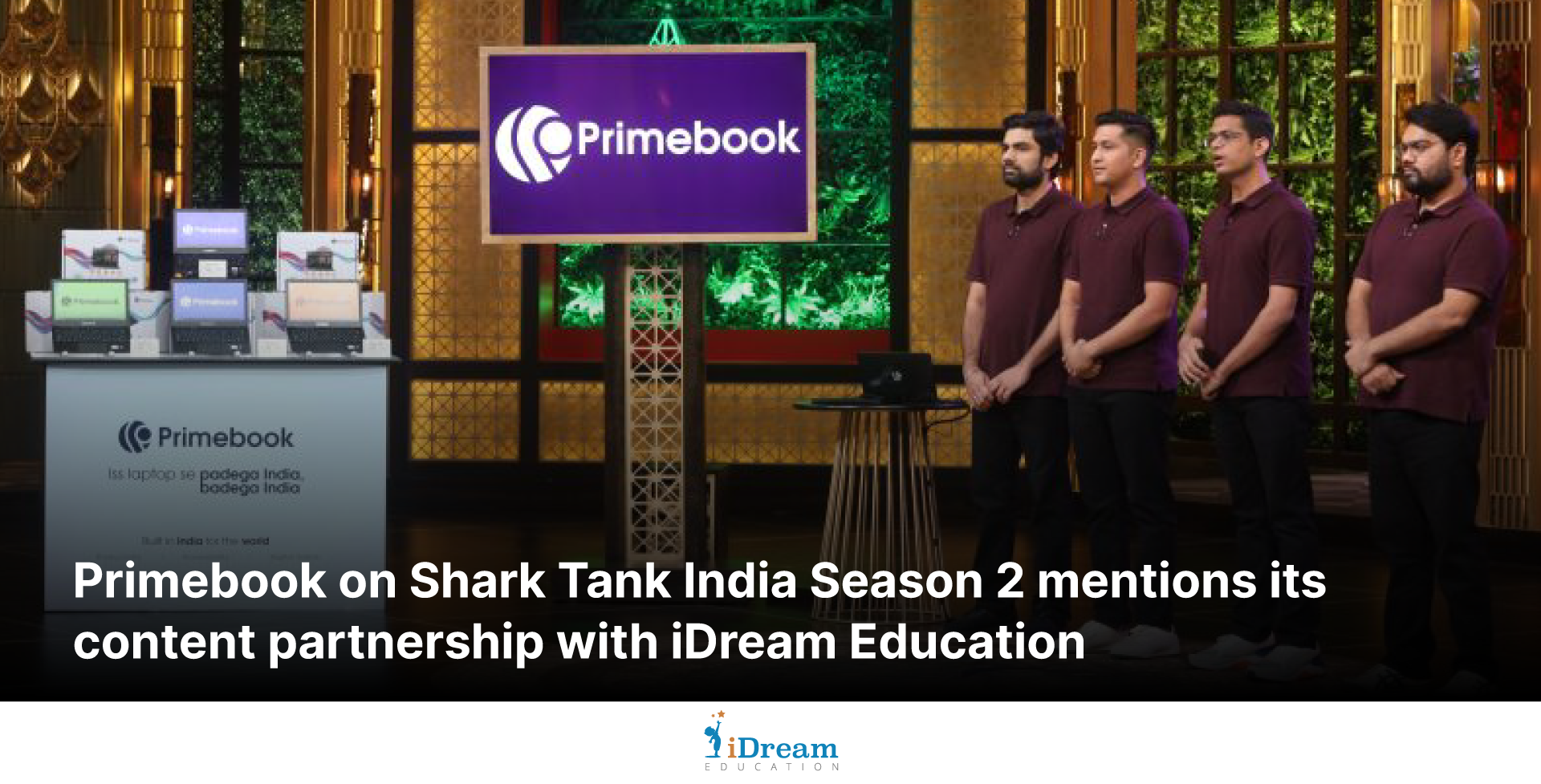 iDream Education is proud to be a partner with Primebook India, a hardware company that builds affordable android-based educational laptops for students in Bharat. Together, iDream's iPrep and Primebook's laptops make a strong value proposition as an all-inclusive learning device for students. Recently, Primebook was featured on Shark Tank and mentioned iDream Education as their content partner. This partnership further propels our vision of ensuring universal access to learning and growth. It is exciting to see that the goal of digital education reaching the last mile learner is becoming a reality, and we are proud to work with the hardware companies that align with us to educate the last mile learners in India.
A Closer Look at Episode
The founders of Primebook highlighted the importance of device compatibility in digital education. They explained how their device is compatible with android apps, making it easier for students to access online learning materials. They also emphasized the affordability of their device, as many students and families in BHARAT still face barriers to education due to the cost of technology and geographical location.
Despite the efforts of the government to promote digital education and digital literacy through the National Education Policy, education still remains a dream for many students due to affordability and location barriers. With only 1 out of 10 students having access to laptops, it is clear that more needs to be done to address these issues and make education accessible to all.
Vision to Fulfill Dreams of Students in BHARAT
To fulfil the dreams of students in Bharat, it is crucial to provide solutions that they are comfortable with. This will ensure that all students have equal opportunities to access education and resources, regardless of their socioeconomic background or location. Further, providing device-compatible solutions will make education more accessible to remote and rural areas, helping to bridge the digital divide.
In the latest episode of Shark Tank, Chitranshu Mahant, other co-founders of Primebook Aman Verma (CMO), Umang Leekha (CTO) and Pankaj Rawat (Business Head), explained the need for a new category of laptop in the education system is Android Laptop to bridge the digital divide. They emphasized the importance of building a system that aligns with the android application to provide students with an easy and seamless learning experience. In this statement, they specifically highlighted the digital content provided by iDream Education through the android app (iPrep), which works seamlessly both offline and online on primebooks, and together makes a strong value proposition as an all-inclusive learning device for students. The Sharks were impressed with the company's emphasis on device compatibility and the potential for the product in the education market.
They acknowledged the growth of hardware partners in education, recognizing that this is an important aspect of the education sector. By focusing on device compatibility, Primebook and iDream Education position themselves as leaders in this field, offering a unique, accessible and affordable solution provider for students sitting in the remotest region of India.
Unleashing limitless potential through the power of Primebook and iPrep by iDream Education
The partnership between Primebook and iDream Education is a great example of how device and platform compatibility can drive growth in the education market. It is an exciting time for the industry as more and more companies are recognizing the importance of this aspect and are working to provide solutions tailored to specific devices and platforms. This will ultimately lead to more effective and efficient learning experiences for students.
iDream Education is a self-funded startup working since 2016 to facilitate universal access to learning and growth. We are at the forefront of the future, offering a fully compatible, easy-to-manage setup and use of digital learning solutions to enable personalized learning experiences through cutting-edge technology.
iPrep, by iDream Education, is a Learning App that runs both offline & online, is bilingual, and works on all major hardware devices and operating systems. iPrep delivers animated digital content for 1st to 12th all subjects in English, Hindi and other language mediums for universal reach and learning.
We have digitised more than 16000 classrooms through Smart Classroom licenses and delivered content, PAL and Learning platform on tablets to more than 5.5 lakh students across 16 states & various Govt/CSR projects in India.
If in case you would like to know more about our digital learning solutions, comment below or write to us at share@idreameducation.org
© Renalysis Consultants Pvt Ltd