The CavinKare-MMA ChinniKrishnan Innovation Award is Now Accepting Nominations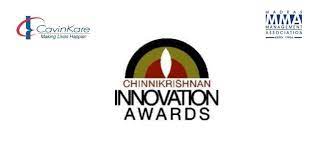 The annual ChinniKrishnan Innovation Award is now open for online nominations from entrepreneurs and businesses. Startups and SMEs with a turnover of less than Rs. 100 crores in FY2020-21 can apply to the 11th. CavinKare-MMA ChinniKrishnan Innovation Award on https://ckinnovationawards.in/ or give a missed call to - +91 97899 60398, along with the necessary details. The last date for receiving nomination is 01st August 2022.
An endeavour of the Chennai-based FMCG conglomerate, CavinKare, along with Madras Management Association (MMA), the award recognizes entrepreneurs for the uniqueness of their product/service, including its scalability, sustainability and benefit to people. Winners will receive Rs 1-lakh cash prize along with support for mentoring, IP acquisition and networking opportunities with banks and financial institutions.
Every year, CavinKare conducts this award to honour the 'father of sachet revolution', Late Shri R. Chinnikrishnan, the father of Mr. C K Ranganathan, Chairman and Managing Director, CavinKare.
Commenting on the occasion Mr. C K Ranganathan, said: "We are thrilled to announce the launch of our annual innovation awards. It is truly an exhilarating experience to discover minds that bring forward meaningful and remarkable innovations. We are excited to see what this year's nominations have in place. With the overwhelming support we have received over the years, this year's Chinnikrishnan Innovation Awards will be bigger, better and grander, especially as we have decided to include companies with a turnover of up to Rs.100-crore. We look forward to an enthralling journey ahead and bring to limelight the best minds in business. We have received an overwhelming response for all the previous award properties and we hope that this year's too will be the same."
Since its inception in 2011, the CavinKare-MMA ChinniKrishnan Innovation Award has celebrated the spirit of entrepreneurship. Till date, over 30 entrepreneurs have won the award under various categories.
© Renalysis Consultants Pvt Ltd