Back to the Grant Listing
Post a Grant announcement
Advertise with us
Online store
Subscribe our Weekly Newsletter
More Grants
---------------------------------------------
BIRAC Call for Proposals under Promoting Academic Research Conversion to Enterprise (PACE) Scheme 2021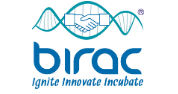 Organization: Biotechnology Industry Research Assistance Council (BIRAC)
Apply By: 31 Mar 2021
Grant Amount: 5000000 INR
About the Organization:
Biotechnology Industry Research Assistance Council (BIRAC) is a not-for-profit Section 8, Schedule B, Public Sector Enterprise, set up by Department of Biotechnology (DBT), Government of India as an Interface Agency to strengthen and empower the emerging Biotech enterprise to undertake strategic research and innovation, addressing nationally relevant product development needs.
Call for Proposals under PACE Scheme
To encourage/support academia to develop technology/product (up to PoC stage) of societal/ national importance and its subsequent validation by an industrial partner, BIRAC has launched PACE (Promoting Academic Research Conversion to Enterprise).
The scheme has two components as below:
Academic Innovation Research (AIR): The objective of Academic Innovation Research (AIR) scheme is to promote development of Proof-of-concept (PoC) for a process/product by academia with or without the involvement of industry
Contract Research Scheme (CRS): Contract Research Scheme (CRS) aims at validation of a process or prototype (developed by the academia) by the industrial partner
Who Can Apply?
The proposals can be submitted under PACE scheme of BIRAC.
The scheme has two components as below:
1. Academic Innovation Research (AIR):
The objective of Academic Innovation Research (AIR) scheme is to promote development of Proof-of-concept (PoC) for a process/product by academia with or without the involvement of industry
Eligibility Criteria:
Types of projects to be supported:
Projects with well-established proof-of-principle leading to development of prototype of a product /technology of national relevance or commercial potential (Basic/exploratory research, projects without well-established Proof of principle or with no or low commercial potential will not be supported)
Duration of project: up to 24 months (BIRAC's Technical Expert Committee at its discretion may recommend for increased duration of the project depending upon the nature of the research study)
Funding Support (Grant): Total cost of the project must not exceed Rs. 50 lakhs (Non-recurring cost must not exceed 10% of the total cost)
IPR: IP rights may be with academia alone, or jointly shared between academia and industry (if academia establishes PoC with industry) as per the understanding between the two partners
2. Contract Research Scheme (CRS):
Contract Research Scheme (CRS) aims at validation of a process or prototype (developed by the academia) by the industrial partner
Eligibility Criteria: Academia must have an established Proof-of-Concept (PoC) as evident by scientific data ready for validation by the industry in contract research mode
Duration of the project: No time limit
Funding Support (Grant): Funding in the form of grant is provided to both academic as well as industrial partners. While funding is provided to the academia for In-House research which forms a part of validation of the Proof of Concept, funds are provided to the industrial partner for validation. There is no ceiling to the funding
IPR: Although the IP rights reside with the academia, the industry partner has first right of refusal for commercial exploitation of the New IP
Deadline: 31-03-2021 05:30 PM
For more information please check the Link
Latest Online Store
Latest Tenders And EOIs
Latest News
© Renalysis Consultants Pvt Ltd