Back to the Event Listing
Post an Event announcement
Advertise with us
Online store
Subscribe our Weekly Newsletter
More Events
---------------------------------------------
Applications Invited for International Year of Millets Photo Contest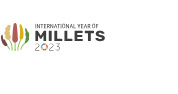 Organization: FAO, International Year of Millets 2023
Event Duration: 21 Aug. 2023 - 31 Oct. 2023
Apply By: 31 Oct 2023
About the Organization
The global food system faces many complex challenges, including hunger, malnutrition, an ever-growing global population, limited natural resources and a changing climate. A solution is to enhance sustainable crop production, resilient value chains and consumer access to affordable and varied diets. Millets, in their diversity, can contribute to this solution as affordable sources of nutrients for healthy diets that can be cultivated in various adverse climates and arid regions with minimal external inputs.
The International Year of Millets 2023 is an opportunity to raise awareness of the multiple benefits of millets, from nutrition and health to environmental sustainability and economic development. The Year will strengthen science-policy interaction, facilitate partnerships, mobilize stakeholders to take action on promoting and producing millets, and encourage consumption of millets by the general public.
Everyone has a role to play - from governments and private sector companies to the general public, including chefs, home cooks and youth. We need to work together to unleash the potential of millets for human and planetary health and well-being.
About the Contest
Are you a professional or amateur photographer, or simply passionate about millets? Do you produce, process or promote millets and are you willing to share your experience? Join the IYM 2023 Photo Contest and help spread the word about the many benefits of millets, from their diversity to the variety of nutritious dishes they can produce, their ability to thrive on arid lands, and their market potential.
Your photograph should illustrate one or more of the following aspects:
Millets can fight hunger and contribute to food security;

Millets are climate-resilient;

Millets are tasty and can contribute to a healthy diet;

Millets offer promising livelihood opportunities for small-scale farmers and small and medium enterprises for post-harvest and processing services;

Millets are rich in heritage;

Millets can be used in many innovative ways.
Prizes
The first prize winner of the photo contest will be invited to the official closing ceremony of the International Year of Millets in 2024. Travel expenses will be covered for the winner, according to FAO rules. 

Winners will be announced on the International Year of Millets website at the beginning of December 2023.

Winners will be promoted on FAO social media, by FAO offices around the world and partner websites.

All 5 winners will receive a certificate of recognition and surprise gift bag.
Who can Apply
Participants should be 18 years old or above.

Each participant can submit up to five photographs by filling in and submitting the registration form. Each photo should be submitted separately by filling in the form.

Participants must own the copyright and must have taken the photographs themselves. The photos may have been taken within the five-year period prior to the deadline of the contest (e.g. after 1 October2018).

Each submitted photograph must have a title and a short description/caption explaining what the photo represents, considering one or more of the aspects mentioned, and where/when the photo was taken (max. 150 words).

Participants are invited to post their photos on social media accounts, using the IYM hashtag/s: #IYM2023 #YearofMillets and tagging @FAO.

Photographs must be submitted in .jpeg format. Images should be of high quality (e.g. 300 dpi and 5000 pixels and a file size that does not exceed 2 MB). Both colour and/or black and white images will be accepted.

The material must not violate or infringe third party's rights including but not limited to trademark, privacy, publicity or other intellectual property rights, or that constitutes copyright infringement.

The submission must not contain dates, texts, brand names, logos or trademarks.
How to Apply
Step 1: Choose up to 5 of your own photos and prepare their captions.

Step 2: Fill in and submit the registration form before 31 October 2023 for each photo.

Step 3: Share your photos on social media with the hashtags #IYM2023 and #YearOfMillets tagging @FAO.

Step 4: Stay tuned to find out who the winners are!
For more information please check the Link
Register for the 10th India CSR Summit (by CSRBOX). New Delhi-11-12th Oct. 2023
Latest Online Store
Latest Tenders And EOIs
Latest News
© Renalysis Consultants Pvt Ltd