Back to the Job Listing
Post a Job announcement
Advertise with us
Online store
Subscribe our Weekly Newsletter
More Jobs
---------------------------------------------
Curriculum Specialist - Large Scale programs, Udhyam Shiksha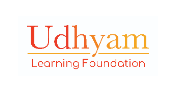 Organization: Udhyam Learning Foundation (Udhyam)
Apply By: 20 Feb 2020
Location: Bengaluru(Karnataka)
About Udhyam:
At Udhyam Learning Foundation (Udhyam), Our vision is to "Co-create a caring world, where people fearlessly pursue their potential"
Udhyam Shiksha, works on developing entrepreneurial mindsets amongst youth, which would enable them to strive towards their potential. We are a high energy & open organisation.
To know more about us, please visit our website. You can also find us on facebook
We are looking for Curriculum Specialists at multiple locations to work closely with the Government education ecosystems to enable them to create and administer Entrepreneurship Mindset Curriculum at scale.
One of the core beliefs at Udhyam is that learning must be experiential which makes this role ambitious and unique in terms of attempting to shift the current ways of learning in our schools. The candidate must be familiar with and open to further developing expertise in experiential learning pedagogy and identifying ways to integrate it into the government system. This is an exciting opportunity for anyone who is passionate about student-centered ways of learning and making this change happen at scale in India.
Role and Responsibility
Research and Design
Articulate learning objectives, curriculum principles and develop curricular frameworks

Create simple yet engaging learning experiences for learners and facilitators

Design pilots to gather user feedback and improvise the content

Research best practices in experiential and reflective learning, learning needs of adolescents, entrepreneurship education, mindset change
Learning and Development:
Develop workshop designs and training materials for facilitators

Facilitate capacity building of teachers/facilitators

Facilitate capacity building of internal team members for implementing the curriculum
Implementation/Program Management:
Collaborate closely with the operations team to plan the implementation

Work in synergy with the SCERT teams to create buy-in for the curriculum

Gather feedback from various stakeholders to improvise the designs
Knowledge and Skills
Ability to identify and research relevant documents, studies, and data from various disciplines

Ability to observe and assess the needs of different learners and learning environments

Detail Orientated

Knowledge of different learning theories and methods to design interactive and experiential learning modules
Facilitation skills
People skills - liaising with staff in the SCERT, Education/training department - to enable them to create and administer the curriculum
Other Requirements
At least 4-years work experience as a curriculum or instructional designer

Experience in experiential learning design and facilitation

Worked in a classroom setting for at least 2 years would be an added plus

Knowledge of Hindi (Speak and read)/local language

Highly creative/entrepreneurial

Readiness to relocate to the location (at least for the 1st year) or willingness to travel as per need (12 to 15 days a month)
Note: The joining location & induction would be at Bangalore or Delhi (NCR).
Locations: Delhi, Chandigarh, Dehradun, Guwahati, Mumbai, Pune, Bangalore
For more information please check the Link
Latest Fellowships
Latest Grants
Latest News
© Renalysis Consultants Pvt Ltd