Back to the Call for Papers Listing
Post a Call for Papers
Advertise with us
Online store
Subscribe our Weekly Newsletter
More Call for Papers
---------------------------------------------
Call for Papers- International Conference on Holistic Health & Well-being:Issues, Challenges and Management(ICHHW)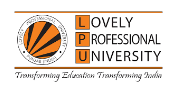 Organization Name: Lovely Professional University (LPU)
Apply By: 25 Mar 2023
Location:
Presentation Date: 06 Apr. 2023 - 07 Apr. 2023
About the Organization
Lovely Professional University (LPU) is a multi-faculty research-oriented institution with hi-tech campus offering more than 200 professional programmes. LPU campus is a complete world in itself having students from 28 states of India and more than 50 countries of the world.
LPU is a world class institution with internationally benchmarked curricula, innovative pedagogy focused on experiential learning, cutting edge research, 300+ foreign tie-ups, well qualified faculty with industry exposure, outstanding sports & cultural facilities, excellent residential facilities, In-campus shopping mall, hospital, banks, postal services etc.
The University is ranked high on various parameters by government bodies and other credible organisations. LPU is recipient of various awards and recognitions and accreditations. Times Higher Education Impact Ranking 2022 has ranked LPU as 74th Globally. The University has also been ranked 47th in NIRF Rankings 2022 by MOE, Government of India amongst all government and private universities in India. It has been ranked amongst top institutions of India in various disciplines i.e. 12th in Architecture, 13th in Law, 19th in Pharmacy, 34th in Management and 51st in Engineering. LPU also has the distinction of being the first private university in India to get ICAR accreditation from Ministry of Agriculture, Govt. of India for its Agriculture programmes.
About the Conference
Holistic Health and Wellness is sustained by eight pillars: Physical, Nutritional, Emotional, Social, Spiritual, Intellectual, Financial, and Environmental. The pillars will give you a sense of how to work toward your optimal wellness, but it is by no means prescriptive. The path to wellness is not one-size-fits-all. The journey is unique and different for each individual.
Your biology, personality, and environment will determine what wellness means to you. That is why your approach should be personalized. The common thread for everyone is that wellness requires a holistic approach. To determine your personalized approach to wellness, reflection on the eight pillars of Holistic Health and Wellness is required.
There are endless ways to create Holistic Wellness Solutions - and there is no "right" answer. As you become more aware of the way multiple areas of your life interest, you may find that there are times when one area becomes more important than others. Sometimes, a solution or activity will lose the strength of its positive impact. You need to stay open-minded and compassionate as you develop this new, whole-person approach to well-being.
Objectives
The vision of the conference is to provide a discussion forum for the academicians, researchers and policy makers across different disciplines and levels for deliberation and dissemination of contemporary research on a wide range of issues associated with holistic mental health & well-being: issues, challenge and management.
How to Apply
For more information please check the Link
Latest Online Store
Latest Tenders And EOIs
Latest News
© Renalysis Consultants Pvt Ltd