Back to the Event Listing
Post an Event announcement
Advertise with us
Online store
Subscribe our Weekly Newsletter
More Events
---------------------------------------------
Applications Invited for D-Prize Challenges for Social Entrepreneurs 2020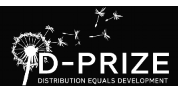 Organization: D-Prize
Event Duration: 10 Sep. 2020 - 29 Nov. 2020
Apply By: 08 Nov 2020
About the Organization:
D-Prize expands access to poverty-alleviation interventions in the developing world. Many solutions to poverty already exist. The challenge is distributing these solutions to the people who need it most. Their programs produce new "distribution entrepreneurs" - social entrepreneurs who start new ventures that distribute proven life-enhancing technologies to millions of people living in extreme poverty.
D-Prize Challenges for Social Entrepreneurs 2020
The D-Prize supports new entrepreneurs who can distribute proven poverty interventions. The world has already invented products and services to end poverty. Yet millions of people still don't have access. The D-Prize aims to award the most promising teams to launch a pilot version of your new organization where extreme poverty exists.
D-Prize Challenges:
Water, Sanitation & Hygiene: 400 million people in sub-Saharan Africa lack access to improved water. Chlorine dispensers at community water sources treat water and lower the occurrence of waterborne diseases like diarrhea. Can you distribute community chlorine dispensers and teach people to use them?

Girls' Education: 14 million unintended teen pregnancies occur annually in sub-Saharan Africa, and girls are 5x more likely to be infected with HIV. A one-hour "sugar daddy awareness" class reduces these risks by 28%. Can you teach "sugar daddy awareness" classes to girls in need?

Agriculture: Increasing the productivity of sub-Saharan African smallholder farms has the potential to lift millions of people out of extreme poverty. High-quality seeds and micro-dosing of fertilizer are cost-effective ways to ensure higher crop yield. Can you distribute a bundle of proven agricultural inputs and teach farmers to use them to grow more?

Energy: 600 million people in sub-Saharan Africa use kerosene lanterns to light their homes. Pico solar lamps are cheaper, cleaner, create cost savings, and increase household incomes by 30%. Can you sell solar lights to rural or slum-dwelling households in need?

Global Health: Over 200M women globally lack access to family planning products. Sayana® Press is a self-injectable contraceptive in a single-use package. Since the product is simple enough for recipients themselves to administer, it may be particularly valuable for women who prefer injectable contraceptives but do not have regular access to health facilities. Can distribute Sayana® Press to underserved women through a private health network?

Education: By 2030 Africa will need to fill an impossible 4.1 million teaching positions. "Flipped classrooms" can be run by a facilitator, and reduce the need for expert teachers. Can you implement an effective curriculum to teach students in a resource-limited classroom?

Governance & Infrastructure: Public services in developing countries are rife with corruption. Public reporting and scorecards create real accountability. Can you improve transparency and report data on public service performance?

Custom: Propose your own challenge! If you know of another proven intervention in need of greater distribution, we would like to hear it. The only requirements are to choose an already proven poverty solution that is in need of distribution to more people in the developing world.
Eligibility
D-Prize is for aspiring entrepreneurs from anywhere in the world, of any age, and any background.

They will consider funding existing organizations only if: you are piloting a new distribution-focused initiative, and you need high-risk capital.
Prizes: The most promising teams will be awarded up to $20,000 USD to launch a pilot version of your new organization wherever extreme poverty exists.
Timeline
Select a challenge above and be prepared for the following deadlines:
The Global Competition launches on September 8th, 2020.

Early Submission Deadline: October 18th, 2020 at midnight PT (pacific time)

Regular Submission Deadline: November 8th, 2020 at midnight PT (pacific time)

Extension Deadline (limited to 200 people who register): November 29th, 2020 at midnight PT (pacific time)
For more information please check the Link
Latest Online Store
Latest Tenders And EOIs
Latest News
© Renalysis Consultants Pvt Ltd