Back to the Call for Papers Listing
Post a Call for Papers
Advertise with us
Online store
Subscribe our Weekly Newsletter
More Call for Papers
---------------------------------------------
Call for Papers- International Conference on Emerging Media Trend and Its Impact on Society & Governance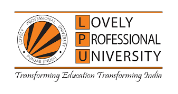 Organization Name: Lovely Professional University (LPU)
Apply By: 10 Apr 2023
Location:
Presentation Date: 28 Apr. 2023 - 29 Apr. 2023
About the Organization
Lovely Professional University (LPU) is a multi-faculty research-oriented institution with hi-tech campus offering more than 200 professional programmes. LPU campus is a complete world in itself having students from 28 states of India and more than 50 countries of the world.
LPU is a world class institution with internationally benchmarked curricula, innovative pedagogy focused on experiential learning, cutting edge research, 300+ foreign tie-ups, well qualified faculty with industry exposure, outstanding sports & cultural facilities, excellent residential facilities, In-campus shopping mall, hospital, banks, postal services etc.
The University is ranked high on various parameters by government bodies and other credible organisations. LPU is recipient of various awards and recognitions and accreditations. Times Higher Education Impact Ranking 2022 has ranked LPU as 74th Globally. The University has also been ranked 47th in NIRF Rankings 2022 by MOE, Government of India amongst all government and private universities in India. It has been ranked amongst top institutions of India in various disciplines i.e. 12th in Architecture, 13th in Law, 19th in Pharmacy, 34th in Management and 51st in Engineering. LPU also has the distinction of being the first private university in India to get ICAR accreditation from Ministry of Agriculture, Govt. of India for its Agriculture programmes.
About the Conference
Good governance is the bedrock for all round development of a nation. Its spectrum is very vast that entails interaction between the market, civil society and the government with a multi-pronged strategy to uphold rule of law, promoting transparency, accountability and human rights. Media as a fourth pillar of democracy plays a critical role in achieving these objectives by protecting human rights, curbing corruption, promoting rule of law, bringing change and ensuring people's participation in decision making.
In a democratic society, like ours, media throws in public domain the government policies and thus provides the necessary checks and balances on government actions. Media, by publishing information also make the government more accountable to the people. The recent rapid advancement in technologies has brought about a paradigm shift in the way peoples access media, share information and communicate with each other. Thus, has paved a way to more informed societies which, for most governance actors, is why a free and plural media is most valued.
The two-day International Conference provides a vibrant platform to media professional, media academicians, and journalists for lively exchange of vivid ideas and brainstorm on emerging media trends and their role in good governance.
To provide an opportunity for media personalities, professionals and, academicians from Journalism and Mass-Communication and Creative and Performing arts to Creative and Performing Artistes to share their experiences on the latest advances and evolving developments paradigms in their respective fields.

To understand the future trends in media and arts creative industries

To deliberate on how these domains can contribute positively to the development of the society in digital age.

To provide a platform for innovative and new ideas to be heard and discussed.

To provide delegates and students with perfect settings to exchange research findings, best practices and emerging trends in Media, creative and performing arts
The conference proceedings will include expert lectures, panel discussions, and Oral/Poster presentations of research papers. Research papers, case studies, conceptual designs, experimental art, and creative works are invited on the themes mentioned.
How to Apply
For more information please check the Link
Latest Online Store
Latest Tenders And EOIs
Latest News
© Renalysis Consultants Pvt Ltd