Back to the Call for Papers Listing
Post a Call for Papers
Advertise with us
Online store
Subscribe our Weekly Newsletter
More Call for Papers
---------------------------------------------
Call for Papers - International Conference on Systems and Technologies for Smart Agriculture (ICSTA 2023)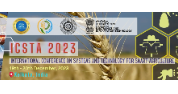 Organization Name: Centre for Development of Advanced Computing (C-DAC), Kolkata Centre
Apply By: 31 Jul 2023
Location: Kolkata
Presentation Date: 19 Dec. 2023 - 20 Dec. 2023
About the Organization
C-DAC, Kolkata Centre has been actively and consistently pursuing research and development in the field of Agriculture and Environment Electronics for more than a decade and is now ideally poised to hold a National R&D Program (AgriEnIcs) on the abovementioned domains under the guidance of Ministry of Electronics and Information Technology (MeitY), Government of India. C-DAC, Kolkata, erstwhile, ER&DCI, Calcutta started research on Tea and Jute process automation long back in early nineties of the past century and developed a few field deployable products. The work continued in the early first decade of the current century to develop a total automation solution for an experimental model tea factory of Tea Research Association, Tocklai, Jorhat. Extremely challenging research work on electronic Nose, electronic Tongue and electronic Vision technologies were taken up thereafter with the intention of quality estimation of produces like tea and rice. Products were developed and deployed with the full satisfaction of the stakeholder institutes. These research were supported by MeitY, DST and Tea Board in respective cases.
About the Call for Papers
Centre for Development of Advanced Computing (C-DAC) Kolkata, in association with the University of Calcutta, is hosting an International Conference on Systems and Technologies for Smart Agriculture (ICSTA 2023) on December 19 and 20, 2023 at Kolkata, India. This two days program is based on the theme "Cultivation of civilization through sustainable agricultural practices-Together We Make it Possible".
ICSTA 2023 sessions will discuss agricultural practices designed to preserve the Earth's natural resources, enhance crop quality, protect the environment, and restrict the health hazards of farmers, the ultimate founders of human civilization, through the intervention of electronics and ICT technologies. The program covers all aspects of tools and techniques for Smart Agriculture, including the Internet of Things, Mechanization and Automation, AI and ML, Computer Vision for Agriculture & Horticulture, Animal Science & Dairy, Fisheries & Aquaculture etc. This event will highlight significant research and its applications in agriculture and showcase emerging technologies and information management for agriculture.
ICSTA 2023 will offer oral and poster presentations and exhibits, as well as a discussion and exchange of information on various aspects of agriculture. This platform will allow scientists, researchers, academicians and young students to interact with eminent scientists/technologists working across the globe in interdisciplinary cyber-physical systems to make agriculture a profession of hope. Sessions will offer information on key topics for Scientists & Students, Agriculture Engineers, Farm Practitioners, Crop Consultants, Advisors, Extension Personnel, Agronomists, Producers, and other practitioners. ICSTA 2023 will serve as a common platform for discussing the new ideas/ developments/ breakthrough and prospects for multifunctional agricultural practices with leading scientists/technologists and to be acquainted with their experience and knowledge.
How to Apply
ICSTA 2023 encourages fullpaper article submission in futuristic next-generation technologies. Authors are invited to submit original unpublished work that is not currently under consideration for publication elsewhere via the various track mentioned below. The paper will go through a peer review process by the review committee, and authors will be notified. Selected papers will be published as proceedings with Springer (it will be updated) and will be published on reputed journal.
Paper submission link: https://easychair.org/conferences/?conf=icsta2023
Papers must strictly adhere to the Springer template, and authors need to submit their papers online through EasyChair conference management systems. The following are the tracks but not limited to:
Track 1: Automation and Mechanisation

Track 2: Artificial Intelligence/Machine Learning/Deep Learning

Track 3: Security and Blockchain

Track 4: Big Data, Data Management and Analytics

Track 5: Agricultural Health

Track 6: IoT

Track 7: Additive Technologies & Food Engineering
Last Date For Submission: 31st July 2023
For more information please check the Link
Latest Online Store
Latest Tenders And EOIs
Latest News
© Renalysis Consultants Pvt Ltd